A Hurricane and a New School
A Hurricane and a New School
Pat O'Connor
Hurrricane Donna Pays a Visit
**Oringinally posted in Google**
So now, with my brother and sister gone to faraway Oregon, I was the last O'Connor left in Florida. I would miss them very deeply, yet to this day
I have never regretted my decision to remain at Aunt Gladys and Uncle Austin's
School was about to start and once again I would
be starting a new school. There were many of us in our neighborhood who had been attending Central Elementary, which was in downtown Auburndale.
But, there was a newer school just blocks from our house and the school policy changed meaning we would now be attending Lena Vista Elementary.
I was now in second grade and my new teacher was Mrs. Dial. She was an interesting person. I remember her being very hefty and everyday she would take home scraps of lunchroom food for her dog.
I had the same teacher for third and sixth grade, a Mrs McCarty. In fourth grade my teacher was Mrs Mitchell.
In fifth grade my teach was Miss Harrison. We all loved her and she was very unique in several ways.
First, she was an "old maid" having never been married. She was very wealthy as she owned hundreds of acres of prime citrus groves, yet she drove this ancient old car from the early fifties. I want to say, it was a 1951 Chevy. Her classroom was special also as it was the only room in the school with a television and air conditioner.
Finally, she was also a vegetarian, the first one I can remember ever knowing.
It wasn't such a bad transition though, as at least I would know a lot of the kids and actually it was a much nicer facility. I have many good memories of Lena Vista, even when I fractured my right arm in fourth grade and broke my left one in sixth grade. Hey, you can't live life on the sidelines.
Life was also about to get very interesting as a result of a monster storm roaring across Florida.
Hurrican Donna was a category four (some say
five) hurricane with at one time sustained winds of 160mph, and peak winds of 175mph. It roamed around the Carribean and the Atlantic from August 29, 1960 until September 14, 1960.
It was one of this countries deadliest hurricanes aslo, due to the path it took after smashing through Florida. It made landfall in the Everglades, came straight up Florida and then cut accross the state at Tampa. After leaving Florida, it hugged the US Atlanta coastline all the way up through New England.
It also held together extremely well and even when it crossed Long Island it had a 100 mile wide eye. When it made it's way to Rhode Island, it still had wind gusts up to 130 mph. These states were simply not prepared for such a storm as this. The illustration to the left is an actual radar image of Donna.
All in all 364 people lost their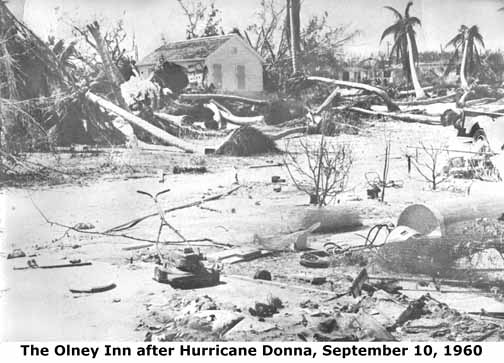 lives and billions of dollars of destruction ranged for hundreds of miles along the Atlantic seab
oard.
I was surprised too at my reaction to Donna. After the hurricane/tornado incident in Tennessee several years before, I had been terrified of bad storms. But, this time I was unusually calm and actually slept a little bit. Our house was an incredibly solid masonary and block home well capable of surviving an even worse storm.
The only damage we had was a shingle blew off a neighbor's house and went through a dining room window.
The eye of hurricane Donna passed directly over our town and you know, we couldn't resist going outside in the middle of it. It was one of the eariest scenes I can remember. Nothing moved, not even bugs, and there was absolutely no noise. It was a scene of total and complete stillness.
After the storm passed, there was of course no electricity and the store close to our house had to get rid of all its perishables before they went bad. So, I took my little red wagon
and brought home a load of ice cream.
Most of the houses of that time were also built about three feet off the ground so as to avoid being flooded during
storms or even the heavy monsoon type rain we had. While our house was safe, the yard was covered with about a foot of red yucky water, with leeches floating around by the seeming thousands and with occasional snakes swimming around. It would be days before the water finally subsided.
The rest of the year, thank goodness passed without much fanfare, storms or other memorable events.
Labels: Auburndale, Aunt Gladys, florida, hurricane Donna, Lena Vista elementary, Marion, Oregon, pat o'connor, Steve, Uncle Austin, Winter Haven