Thinking of You on a Winter's Day
Thinking of You on a Winter's Day
Looking through my files and I ran across a song, "I Wanna Grow Old With You"
My heart turned at once to you and I am wondering how you are in the so distant land that I can not yet wander through.
I see you splashing in the surf, the sand squeaking through your toes as your spirit laughs with such joy. The joy from knowing no pain, no disease, no more sorrow, nor loneliness.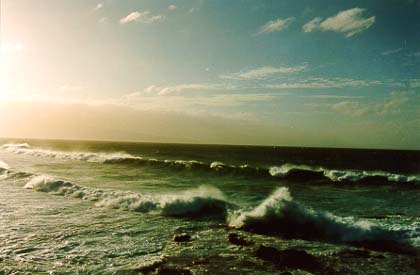 I wonder of the beauty you see and the peace the envelops your beautiful soul.
You have been gone so long and still the sorrow is there as it if were but yesterday....as if the sun just set the evening before.
I wander so aimlessly through life now, watching the days go by in a monotonous rhythm.
Look far away behind you, and I am coming.
Like a wave, longing for the embrace of the shore....but I seem to lost, so distant.... so unable to be with you....
always longing for that embrace, but always staying just beyond....staying just beyond that joy and rest......just beyond touching constantly
thrown about in a raging sea.....gasping for air...reaching out in a futile attempt to touch you......forever struggling....always in pain....always wondering how long....
I need the light to guide me home....to guide me to that shore to be with
you....
.to splash
in the surf with you as we are together again.....
I long to look back and see our footprints together.....
for all the days and tomorrows to come
Labels: footprints, ocean, sand, surf, toes